Behind the Scenes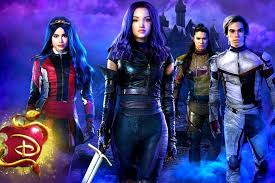 Most of us know about the movie "Descendants" and really liked it as a kid. It brings back good memories, and our Wantagh Middle School decided to do a play on it! It was very successful and an amazing experience. My name is Bianca telling you what it's like to be backstage doing costumes. 
Being backstage is a fun job and if you want to do it, you should and I will tell you why. If you are in charge of costumes then you get to hang up the actors' costumes and help them if they need help. I was also in charge of getting the actors costumes ready for the next scene and helping anyone that needs help. If you want to be props then you can deliver props when actors need them at the right scenes. Then there is house crew which is where you make boxes for donations, sell merchandise, playbills, get donations from people, check peoples tickets and much more! Lastly there is backstage. If you're backstage you get to move the sets around to switch the scene. 
As part of the costume crew, I also helped with quick changes and organization. I would highly recommend joining the drama club next year because I guarantee that you will have so much fun. I would also like to give a special thank you to Dr.Davis and Mrs. Piciullo for giving me support and making the show look absolutely amazing!!!