How to stay organized with your locker and your papers in middle school!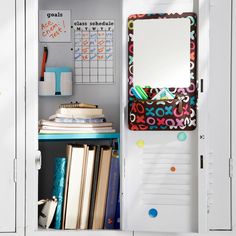 Hang on for a minute...we're trying to find some more stories you might like.
Are you having trouble keeping your locker neatly organized?  Follow these steps to have a neatly organized locker next year for school.  
 The first step to getting completely organized is to taking your all your books out.

Take all of the scraps and garbage you have and throw it away or bring it home.

Buy a stand up shelf that can fit your books on the bottom and your other items like your lunchbox on the top.

Get a dry erase board to put events on you might forget – like a project due tomorrow, or a book you need to bring to class everyday this week.

Put a little mat under the shelf so your books don't rip or break on the bottom.
    6 . Place a tiny book end on the sides of your books so they don't fall over or fall out.
Some kids have tiny holes in their lockers that they like to make mailboxes out of so friends can put letters through them.

You can buy magnets for your locker if you want to put up a paper in your locker.
Use a magnetic basket to keep pens,pencils and markers in.