Nintendo Switch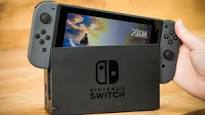 Hang on for a minute...we're trying to find some more stories you might like.
Nintendo's last console, the Wii U, was a bit of a failure due to its sort battery span and its launch games (see Jonathan's article for more reasons). But Nintendo has a console going to be released on March 3rd for $299.99 that may turn things around. The console is called the Nintendo Switch (NX).
    Nintendo Switch is a console that you can play at home on your TV or take it with you in handheld mode. There are two mini Joy-Con controllers that you use to play face-to-face or do a 4v4 match. You can use a single Joy-Con in each hand depending on the game.
    Launch games for this title include 1-2 Switch, Just Dance 2017, The Legend of Zelda: Breath of the Wild, Skylanders: Imaginators, Super Bomberman R, I Am Setsuna, Little Inferno, and a few more. These games are either in the stores or on e-shop.
Emily Rodgers claims that the Nintendo Switch will be 100% region-free and that the camera and mic are not built in the NX portable system. Let's hope the NX will be able to beat the PS4 and Xbox One!