Fall Baking Recipes
Preparing for Thanksgiving? Helping out with the cooking? These recipes are sure to make you the new baker in the family.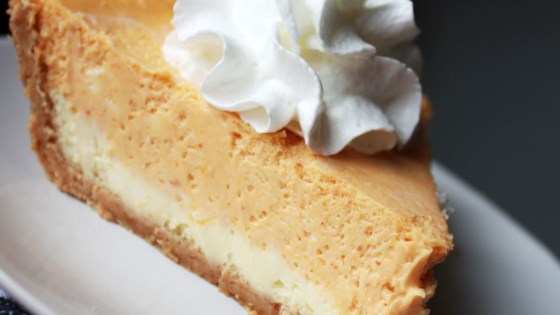 Recipe #1:
Pumpkin Cheesecake
By Stephanie Phillips
INGREDIENTS:
+2 (8 ounce) packages of cream cheese, softened +½ cup white sugar
+½ tsp. vanilla extract +2 eggs
+1 (9 in) prepared graham cracker crust +½ cup pumpkin puree
+½ tsp. ground cinnamon +1 pinch ground cloves
INSTRUCTIONS:
+Preheat oven to 325 degrees F (165 degrees C).
+In a large bowl, combine cream cheese, sugar and vanilla. Beat until smooth. Blend in eggs one at a time. Remove 1 cup of batter and spread into bottom of crust; set aside.
+Add pumpkin, cinnamon, cloves and nutmeg to the remaining batter and stir gently until well blended. Carefully spread over the batter in the crust.
+Bake in preheated oven for 35 to 40 minutes, or until center is almost set. Allow to cool, then refrigerate for 3 hours or overnight. Cover with whipped topping before serving.
Recipe #2:
Apple Crumble Pie
By LEHOUX
INGREDIENTS:
+1 (9 inch) deep dish pie crust +1/3 cup white sugar
+5 cups apples – peeled, cored and thinly sliced +3/4 cup all-purpose flour
+1/2 cup white sugar +6 tablespoons butter
+3/4 teaspoon ground cinnamon
DIRECTIONS:
+Preheat oven to 400 degrees F (200 degrees C.)
+Arrange apple slices in unbaked pie shell. Mix 1/2 cup sugar and cinnamon; sprinkle over apples.
+Mix 1/3 cup sugar with flour; cut in butter until crumbly. Spoon mixture over apples.
+Bake in preheated oven until apples are soft and top is lightly browned, about 40 minutes.
Recipe #3:
Copycat Panera® Broccoli Cheddar Soup
gildawen
INGREDIENTS:
+1 tablespoon butter +1 ½ cups coarsely chopped-
-broccoli florets
+ 1/2 onion, chopped + 1 cup matchstick-cut carrots
+ 1/4 cup melted butter + 1 stalk celery, thinly sliced
+1/4 cup flour + 2 1/2 cups shredded sharp-
-Cheddar cheese
+ 2 cups chicken stock
INSTRUCTIONS:
+Melt 1 tablespoon butter in a skillet over medium-high heat. Saute onion in hot butter until translucent, about 5 minutes. Set aside.
+Whisk 1/4 cup melted butter and flour together in a large saucepan over medium-low heat; cook until flour loses its granular texture, adding 1 to 2 tablespoons of milk if necessary to keep the flour from burning, 3 to 4 minutes.
+Gradually pour milk into flour mixture while whisking constantly. Stir chicken stock into milk mixture. Bring to a simmer; cook until flour taste is gone and mixture is thickened, about 20 minutes. Add broccoli, carrots, sauteed onion, and celery; simmer until vegetables are tender, about 20 minutes.
+Stir Cheddar cheese into vegetable mixture until cheese melts. Season with salt and pepper to taste
Recipes taken from http://allrecipes.com