Philadelphia…The Place to Be
Philadelphia is an exciting city filled with historical monuments, exciting places to visit and new foods to try. Combined with the interesting moments of history and the continuous list of things to do, you will find your passion for this amazing city. In this article you will find out the reasons why Philadelphia should be on your top five places to visit.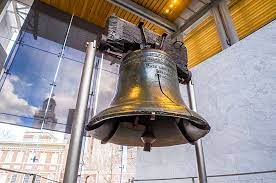 Learning about the Revolutionary War is key to understanding the history that has happened before us. It was an interesting and rebellious time in history. One important place to visit is the Independence Hall which is where the Declaration of Independence was signed. In Philadelphia you can walk into the Independence Hall and take a look around of what it looked like during the Revolution. Also, the Museum of the American Revolution is definitely worth experiencing. There are so many artifacts to see and interesting stories of things that happened during this time. One story was when women would dress up as men in order to fight in the war, or another story about a African American women who was freed from slavery by fighting her case in court. There are also fascinating artifacts of ancient belongings to the England hierarchy. If you are interested in art, there is the Philadelphia Museum of Art which is one of the nation's largest art museums. It is located right above the Rocky Steps and both places are a great to see during your time in Philadelphia.
If you love trying new and exciting foods, then Philadelphia has your name written all over it. There are endless amounts of different meals to try in Philadelphia. If you like to eat meat, then you should definitely try Philadelphia's famous cheesesteak and hoagie. A cheesesteak consists of thinly sliced pieces of beefsteak with melted cheese in a roll and a hoagie, which is specifically known in Philadelphia, is filled with your choices of meat, cheese, vegetables, and other toppings. These two foods will definitely satisfy your taste buds. As a dessert, you should try a butterscotch krimpet which is a fluffy sponge cake topped with butterscotch icing. All of these amazing foods will make your visit at Philadelphia memorable. 
Book your trip to Philadelphia and don't think twice about it! Philadelphia is enjoyable for everyone and there are so many amazing experiences that you shouldn't miss.