The Origin of the Candy Cane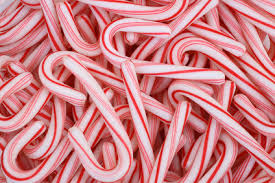 Hang on for a minute...we're trying to find some more stories you might like.
     Many people may not think about this tasty, minty treat during the holidays. Like all things, this treat has a great history which I will share with you.
            The candy cane is the shape of a shepherd's staff. This shape was created by a choirmaster at the Cologne Cathedral in Germany. He bent the pure, white sticks into shepherd's staff, to resemble a part of the "Nativity Scene", the part of which the shepherds got a message from the angel, Gabriel.  He would hand these peppermint treats out to kids who were part of the play to show the "Nativity Scene" or kids who were part of the church. All the kids were happy and loved these tasty treats. It used to be a kid's favorite candy during the holidays. The first time someone saw, and remembered the candy canes was in the 1850s, when a German immigrant named August Imgard decorated his Christmas tree in Ohio with candy canes. Many thought this idea was great, thus some families place some candy canes on their trees during the holiday season and other treats or strings of popcorn and cranberries.  About fifty years later the first red-and-white striped candy canes were created. This was a great improvement for the candy canes because they used to be a pure white candy shaped as a "Shepherd's Staff". Many people became aware of this improvement and the "new candy cane" was known to others.  Around the same time, candy-makers added peppermint and wintergreen flavors to their candy canes and those flavors then became the traditional favorites. Now you can find many flavored candy canes, like fruit flavored other than the original peppermint flavor.
            The Christians believed that the candy cane's shape resembled the letter "J", for Jesus, their savior. The red stripes represented Christ's blood and, while he died on the cross. The three red stripes symbolized the Holy Trinity. The hardness of the candy represented the Church's foundation on solid rock, to show the strength of the church. Many other Christian fates believed other reasons for what the candy cane resembled, but the most favorable belief was the shepherd's staff.
As you can see, the candy cane has a great history and is not just a "simple" candy.