Boredom Killers Part 4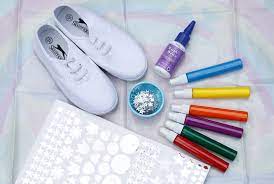 Hello, I myself have already been quarantined this year and it's extremely boring so here are some boredom killers for quarantine. Covid is still a thing, but as you can see, things are improving, and we are back to full school. Now that things are getting better we are hanging out with friends more and more, so here are some things to do with your friends. Just remember to stay safe.
Shoe Painting——————————————————————————————
I myself have done this with friends and it's really fun so here's the breakdown. First, you'll go to Target or Walmart or really anywhere, and get some cheap white shoes. Once you and your friends have your shoes, make sure you get some paints. Now that all the supplies are gathered you and your friends should get food, or a movie, or music, or whatever to keep you guys entertained while painting. You can make your shoes themed however you want; you can base them off a character, a person, a color scheme, or whatever you and your friends like. Just be creative and have fun.