The Mandalorian and Why You Should Watch It
Listen, it's no secret that last year, 2020, was a rough one. We all had our ups and downs, well, mostly downs, but we must have found something that helped us get through this year, because we are in the clear (thank goodness). My family and I relied on the Star Wars franchise to help us escape from the harsh reality of the world. Now, I understand the sci-fi genre and the whole "pew pew pew" scene is not for everyone, but sometimes you just need a different and creative series to keep you going, and I believe The Mandalorian fits that description. 
The Mandalorian is a popular spin-off series of the original Star Wars movies. It takes place in between the defeat of the Empire and the emergence of the First Order, and for non-Star Wars fans, the series takes place in between the 6th and 7th episodes/movies of the original 9-movie series. While it is not completely necessary for you to watch all of the original movies to understand the plotline, as the show is it's own spin-off, one should understand the rise and fall of the Empire, as well as the fight between the Light and Dark Sides of the Force. Honestly though, you don't e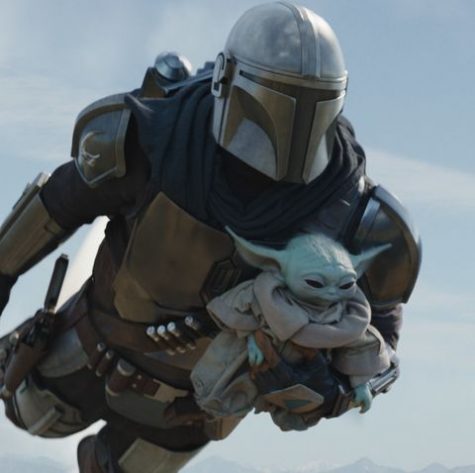 ven have to be a huge fan of the Star Wars franchise to enjoy the series as it really does have it's own vibe and element of thrill and excitement, as well as the aspect of a more modern environment regarding the special effects in the series.
The show follows an independent man, or should I say man-dalorian, excuse my pun. Anyway, he is a bounty hunter who travels through the galaxy to complete jobs and get paid bounty, or money. If you have heard of Baby Yoda, and I'm almost positive you have, and you are looking for where the whole obsession comes from, watch this series and you will understand. Baby Yoda, or The Child, is a small creature who travels with the mandalorian, and the adventures are mainly focused around him. The show only streams on Disney+, and has 2 seasons with 8 episodes in each season. Each episode is about 40-45 minutes each, yet each episode is a new story line and adventure. You can never really get bored, as new characters and personalities are introduced frequently, which is one of the reasons I like it so much. While I'm not sure if there will be another season, I highly recommend you check out The Mandalorian if you are looking for an awesome, new series to binge, or if you are looking to try out something new in terms of genres.